To use WhatsApp, we first have to create a new WhatsApp account. Only then we can use the free services of WhatsApp.
In this tutorial, we will give you complete information about creating a WhatsApp Account. You will know how to create a new WhatsApp account – How to Create a New WhatsApp Account in Hindi? What is the step by step way to create a WhatsApp account?
How To Create a WhatsApp Account?
Step: #1
First, download WhatsApp and open it. If you do not know how to download WhatsApp or do not even know where to download, then you can learn about downloading WhatsApp by clicking on the button below.
WhatsApp Download & Install Tutorial
Step: #2
As soon as you launch WhatsApp. WhatsApp Welcome Page will open in front of you. From here you tap on AGREE AND CONTINUE and proceed. Once read the WhatsApp Terms of Service and Privacy Policy.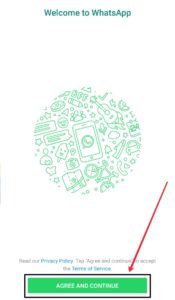 Step: #3
Now write the number on which you want to create a new WhatsApp ID with the country code and tap on NEXT. Keep in mind that you have to write the number. Even if you have only one SIM card in your mobile. Therefore, write the number after checking it.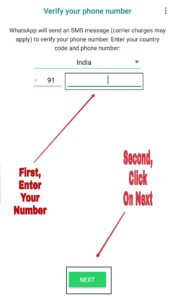 Step: #4
Your mobile number will be verified by WhatsApp. For this, a code will appear on your mobile number. Write your number in the appropriate place and verify your number. Enter 6 Digit Code to Verify Your Number.
Step: #5
After verifying the number, WhatsApp wants to access your contacts and device's photos, media, and files. You Just Click on the "CONTINUE" button and allow all permission.
Step: #6
WhatsApp checks the backup of this number. If you have already created a WhatsApp ID on this number, then tap on the "RESTORE" button and wait for restore backup data when it completes clicking the "NEXT" button. And if you are creating a WhatsApp account for the first time, then you proceed by tapping on SKIP.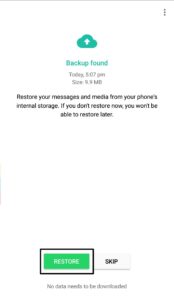 Step: #7
Now you have to complete your WhatsApp profile. For which first, you write your name which you want to show on WhatsApp. And second, choose your profile photo. And proceed by tapping on NEXT.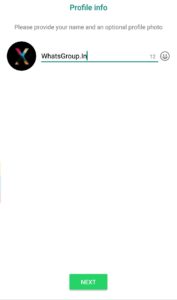 Step: #8
Congratulation! Your WhatsApp account has been created. Now you can enjoy free chatting.
How to create a new WhatsApp Account? – A Quick Guide
Download and install WhatsApp.
Agree to Terms and Continue
Write a mobile number
Enter the Verification Code.
Write Profile Info
And chat. enough.
What Have You Learned?
In this tutorial, we have told you to create a new WhatsApp account. And you have learned how to create new WhatsApp ID in a step by step manner. If you have any problem with creating a WhatsApp account, then you can tell us through the comment. We hope that this tutorial will prove useful to you.